Latest update 12 March, 2004
EC DG RESEARCH Accompanying Measure project:
Dynamic
Analysis
and
Modelling
applied to
Energy
Performance
Assessment
and
Prediction of
Buildings
and
Components
(Renewables
and
Rational Use)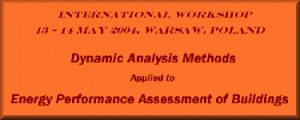 Information about the topics for the workshop, the participation fee and the financial support can be found on the announcement page.
Registration for the workshop is now possible using this Registration Form.
Training Cases (zip file) for the data analysis have are on the web site now. Reports about the analysis results may be used for a contribution to the workshop, check the conditions in the introductory document to the training cases.
The CD Rom with the proceedings of the Ispra Conference is distributed to the participants. Several copies are left and interested people can receive a copy upon request. Contact Hans Bloem.

Brief presentation (slides) of the Project (pdf, 570kb)
Review of the first Conference on Dynamic Analysis and Modelling to Energy Performance Assessment and Prediction of Buildings and Components
See also the DAME – BC information leaflet