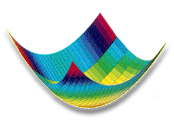 The building sector continues to account for approximately 40% of the final energy consumed in the European Union and whilst the energy intensity of consumption is falling as a result of technological advancements and proactive energy policy, standards of living and the demand for an improved indoor environment continue to rise.
Buildings and building technologies therefore remain an area where scientific research is of considerable importance for the development not only of new, innovative, efficient and effective products of limited environmental impact, but also for the development of tools and methodologies for analyzing the performance of these new products and the buildings into which they are integrated. Such tools are also required for the development of simplified methods for applications such as energy performance analysis of existing and new buildings, areas which will be addressed by the Directive 2002/91/EC which will come into force across the European Union from 2006 onwards with a transposition phase of three years.
In this light, dynamic analysis methods and modeling techniques, combined with appropriate test methodologies, have been applied for many years to the assessment of the thermal and solar performance of buildings and building components. However, producing accurate results, which inspire confidence throughout the construction sector, can still be a problem.
The DYNASTEE Network (DYNamic Analysis, Simulation and Testing applied to the Energy and Environmental performance of buildings) is an informal grouping of organizations actively involved in the application of tools and methodologies applicable in this field. Often statisticians and mathematicians do not have the technical knowledge to correctly apply these dynamic techniques to physical processes, whilst engineers may not have adequate knowledge of the complex statistical and mathematical processes. Discussions, comparisons, training, guidance tools, and in general, accessible research infrastructures are required to keep the necessary skill at a high level. Furthermore, due to the wide range of scientific disciplines required for analysing the complexities of the performance of an occupied building in a real outdoor environment, it is difficult and expensive for any one institute, organisation or university to maintain all the required knowledge in-house. As such, whilst the dynamic analysis and modelling techniques are able to deal with the non-linear processes associated with the energy performance of occupied buildings and are well suited for energy performance assessment, it is remains a necessity to provide an environment which allows direct and effective intercomparison of these techniques and the results of their implementation.
OBJECTIVE
The objective of the DYNASTEE Network is to provide such an environment, by bringing together the scientific community in the field, to add further momentum to many years of applied research and to identify feasible approaches for the practical implementation of dynamic techniques and to instill the necessary continuity for a cohesive approach to the research work. One of the activities of the DYNASTEE Network is the organization of conference and workshops in order to create a meeting ground for the presentation and discussion of the latest scientific developments and consideration, analysis and reflection on the success of activities and strategies to date.
Under the auspicies of the PASLINK, the DYNASTEE network constitutes a sustainable informal networking mechanism which is intended for those who are involved in research and applications concerning the study of the thermal and visual comfort in buildings, as well as indoor air quality, based on analysis of performance data.
Possible areas of interest which may benefit from dynamic methods are, for example, energy labelling of buildings, energy retrofit evaluations, performance control in energy management systems, field testing of building components, development of methods for pre-normative research and validation of simulation tools. The objective of the DYNASTEE Network is contribute to the study of these topics by creation of an environment of scientific collaboration and awareness.
The DYNASTEE – PASLINK network collaborates with the organisers of the PALENC 2007 conference in September in Greece palenc2007.conferences.gr in a special session on "Dynamic Analysis and Modelling" which should be seen as the natural progression of a number of previous initiatives in the field, such as the following seminars, workshops and conferences:
EPIC2006 conference 20-22 November 2006 in Lyon, France. The theme of the conference was: "Technologies & Sustainable Policies for a radical decrease of the energy consumption in buildings". The DYNASTEE-PASLINK network took care of Session E11 – "Performance assessment of Building Components" in which six quality papers were presented.
DYNASTEE 2005 conference, 12-14 October, Athens, Greece. The topics of the conference covered the whole range of scientific developments in the field of dynamic analysis, simulation and testing applied to the energy and environmental performance of buildings. Particular attention was given by several speakers to simulation and analysis of energy flows of renewable energies integrated in the built environment.
'Workshop on Dynamic Analysis Methods Applied to Energy Performance Assessment of Buildings', Warsaw University of Technology, 13-14 May, 2004.
"Conference on Dynamic Analysis and Modelling to Energy Performance Assessment and Prediction of Buildings and Components", Joint Research Centre, Ispra, 13-14 November 2003.
'Workshop on Advanced System Identification', Informatics and Mathematics Modeling, Danish Technical University, Copenhagen, 30 January-2 February, 2001.
'Workshop on Advanced System Identification', Informatics and Mathematics Modeling, Danish Technical University, Copenhagen, 30 January-2 February, 2001.
'Course on System Identification Applied to Building Performance Data', Institute for Systems Engineering and Informatics, Joint Research Centre, Ispra, 4-7 October 1994.
'Workshop on the Application of System Identification in Energy Savings in Buildings', Institute for Systems Engineering and Informatics, Joint Research Centre, Ispra, 25-27 October 1993.
'Workshop on Parameter identification methods and physical reality', Joint Research Centre, 1992.
The DYNASTEE Network and DYNASTEE 2005 Scientific Conference is a PASLINK Action.
Visit the website www.dynastee.info or contact info@dynastee.info