1st International Conference on Dynamic Analysis and Modelling
Review of the INTERNATIONAL CONFERENCE on Dynamic Analysis and Modelling to Energy Performance Assessment and Prediction of Buildings and Components
Ispra, Italy
13 – 14 November 2003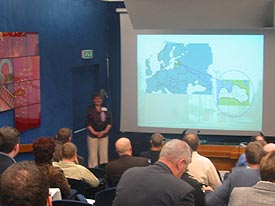 Participants in the Amphitheatre listening to Dagnija Blumberga's presentation on
Benchmarking Energy Performance in Buildings in Latvia.
A successful conference was organised on 13-14th November, by the Renewable Energy Unit (RE Unit) of the European Commission's Joint Research Centre (EC-JRC), and PASLINK EEIG on the topic of "Dynamic Analysis and Modelling to Energy Performance Assessment and Prediction of Buildings and Components". A total of 51 participants attended from 20 countries, including 19 from seven new Member States. See also the Programme of the Conference.
Interesting presentations were made by participants from both existing and future EU countries. One session was devoted to application of system identification methods, another session to simulation such as TRNSYS and MatLab software environments.
All participants appreciated the CD handout which contained all conference papers, together with system identification software tools and reference data for self-training.
The workshop session during the second day was also received very positively. Assisted by PASLINK members the participants were invited to try the software and professor H. Madsen has given a one-hour lecture for the statisticians. Several organisations have shown serious interest in becoming member of the PASLINK network.
Following the outcome of the event, the organisers have decided to start an informal network and organise a second event in May 2004 in Warsaw using the same successful formula.