Summer School 2019 | Dynamic Methods for whole Building Energy Assessment | 9 – 20 SEPTEMBER 2019, Granada, Spain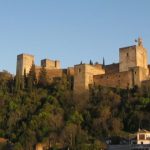 After 7 very successful editions of the Summer School on "Dynamic methods for whole building energy assessment" the organisers have decided to offer, in collaboration with the University of Granada, a two-weeks doctoral course that focuses more on pragmatic application of dynamic calculation techniques, meaning that the analysis of building energy data is of high importance and can give potentially high value information to utility and end-user. The focus will be on increased complexity, presenting different approaches and application to benchmark data. Read the full text of the Announcement, the Introduction to the summer school as well as more information about the lectures.
The cost for the two-weeks Summer School is 475 Euro. In case that the participant decides to follow the course for one week, either Level 1 or Level 2, the cost is 290 Euro. Participants should do a pre-registration by sending a notification to Marta Ruiz, e-mail: mruiz.serviciosexternos@psa.es
Deadline for submission is July 25th 2019
Upon pre-registration further information will be sent about accommodation and participation fee payment procedure.